The Silver Beach neighborhood is located on the eastern shore of Lake Whatcom in Bellingham. Silver Beach is an ideal place to call home with its stunning views, ample recreational opportunities, and peaceful atmosphere.
Newest Homes For Sale In Silver Beach
Housing in Silver Beach consists primarily of single-family homes, many of which were built in the mid-20th century. The neighborhood is known for its spacious lots and quiet streets, making it a popular choice for many. The area also has a few multi-unit buildings and townhomes, providing options for those seeking a more compact living space.
One of the biggest draws of Silver Beach is the lakefront access. Lake Whatcom is one of the largest and cleanest freshwater lakes in Washington state, and Silver Beach residents have easy access to its beautiful shores. The lake is perfect for swimming, fishing, boating, and kayaking, and the area has several public parks and beaches, making it easy to launch a boat or go swimming. Silver Beach Park, located at the neighborhood's south end, is a popular spot for picnics, playing on the playground, and launching small watercraft.
In addition to the lake, Silver Beach is also close to several other outdoor recreational opportunities. The neighborhood borders Whatcom Falls Park, a stunning 241-acre park with hiking trails, waterfalls, and picnic areas. The Galbraith Mountain trail system, a popular destination for mountain bikers and hikers is just a short drive away.
Silver Beach is also conveniently located near several shopping and dining options. The Barkley Village shopping center, located just a few minutes away, has a variety of stores and restaurants, including a grocery store, library, movie theater, and a gym. Downtown Bellingham, with its historic architecture, independent shops, and vibrant restaurant scene, is just a short drive away.
Silver Beach is a beautiful place for those seeking a peaceful, nature-filled lifestyle with easy access to urban amenities. With its stunning lakefront views, ample recreational opportunities, and friendly community, it's no wonder that Silver Beach is one of Bellingham's most beloved neighborhoods.
Local Relators
If you're considering a move to Silver Beach Neighborhood, as experienced Bellingham real estate agents we are here to assist you in finding your next home. We're well-versed in the local area and can provide answers to any questions you may have along the way.
Communities in Bellingham
Search Nearby Areas
Learn More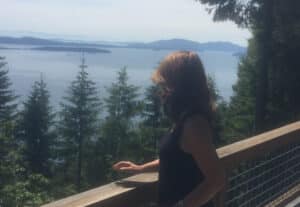 Bellingham Neighborhoods and Surrounding Areas
If you are moving to the Bellingham area, you can't go wrong
with any of the communities in this great city and surrounding
county.