Whatcom county shares a border with Canada, reaches west from the vast Pacific Ocean and easterly high into the North Cascade Mountains which are filled with Cedars, towering Douglas Firs and hidden alpine lakes waiting to be discovered. Whatcom County has skies filled with native eagles and green spaces are inhabited by neighborhood Deer. This area is the jewel of the Pacific Northwest.
Newest Homes For Sale In Whatcom County
Whatcom County is nationally ranked as one of the best places for outdoor recreation, including hiking, mountain biking and Mt Baker skiing. Whatcom County has unending natural beauty and plenty of quaint small cities and towns to explore.
Things to do
Whatcom County attracts people from all over the country for kayaking, paddle boarding, skiing, and hiking destinations. Whatcom has a little bit of everything for all to enjoy. Also, it's between two larger cities -Seattle and Vancouver, BC, so the opportunities are endless.
Golfing
You'll have plenty of golf courses to choose from in Whatcom. The area has twelve, including North Bellingham, Lake Padden, Loomis Trail, Shuksan, and Semiahmoo.
Location
Bellingham is also recognized as a top choice to retire and to start a business. It is known for its stunning views of the Cascade range and the high peak of Mt Baker, which is the starting point for the World famous "Ski to Sea" endurance race in May.
If that wasn't enough, we're a gateway to the gorgeous San Juan Islands. Want to go surfing? Our Bellingham airport offers commercial flights throughout California, Arizona and nonstop to the Hawaiian Islands. Day trips and unique adventures await since we're only 90 minutes from Seattle and just 25 minutes to British Columbia Canada. With so much to offer, Bellingham and Whatcom county are genuinely world-class!
Mt. Baker
One of Whatcom County's best features is the majestic scenery and generous options for outdoor recreation. Mt. Baker, along State Route 542 (Mt. Baker Highway), beckons visitors from all over the country for its pastoral valleys, small mountain communities, and farmlands. The small towns of the Mt. Baker Foothills include Kendall, Maple Falls, Nugents Corner, Acme, and Van Zandt. Each of these small communities are rich in history and have plenty of locally-owned businesses and boutiques to explore. You'll find unique handcrafted items that you can't find anywhere else. If skiing is your hobby, then you'll enjoy the Mount Baker Ski Area at milepost 52.
North Cascades
The North Cascades National Park (500,000 acres) is one of the biggest National Park Service units in the state. Since 1968, the park has been a preservation of mountain scenery, glaciers, waterfalls, snowfields, and alpine meadows. Locals refer to it as the "American Alps." There are three parks within the North Cascades National Park: Lake Chelan, North Cascades National Park, and Ross Lake. If hiking is your forte, try Cascade Pass Trail, Diablo Lake, Maple Pass Loop, and Hidden Lake.
The Art Scene
Whatcom boasts plenty of art venues and museums in the Bellingham and Lynden areas. In downtown Bellingham, you'll find the popular Whatcom Museum, which offers many programs and art exhibitions year-round. The museum focuses on nature, art, and Northwest history. The museum is composed of two buildings: the Old City Hall and the Lightcatcher.
Whatcom Art Market
Composed of 40 local craftspeople and artists, this hub of cultural exchange is one of Whatcom County's most popular art shopping venues. Watercolor and oil painters, along with wood and metal sculptors, show off their work. Also, you'll find photography, textile art, handcrafted knits, glass, and jewelry among the fine handcrafted items of the market.
The Spark Museum of Electrical Invention
Aspiring inventors or history buffs will enjoy the Spark Museum of Electrical Invention, which includes many interactive exhibits displaying four centuries of scientific invention and heritage. This is a great place to learn more about the inventions that changed human history.
Gallery Syre
Check out the internationally renowned artwork of David Syre at Bellingham's Gallery Syre. You'll see sketches, paintings, and sculptures from Syre's career. On display are Syre's past and recent large-scale acrylic paintings inspired by his travels and reflections on numerous topics like personal transformation.
Cities and Towns of Whatcom County
Many people from other states favor Whatcom County as a prime location for jobs, good schools, and a hub of outdoor recreation. The neighborhoods offer great schools, safety, beautiful scenery, plenty of land, and a high standard of living.
Real Estate For Sale Nearby
View Real Estate For Sale in Nearby Towns
Popular Posts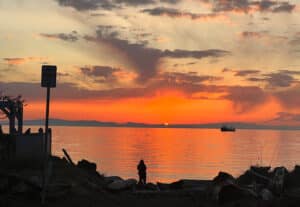 Are you looking to put down roots in a new city full of excitement and opportunity? Then you won't want to miss Bellingham, Washington – a rare jewel of community and adventure nestled in the heart of the Pacific Northwest. The beautiful city of Bellingham, WA, offers the amenities of a growing …