Are you thinking of relocating to Skagit County?
Anacortes, Mount Vernon, Burlington, La Conner, Sedro-Woolley and Concrete
Skagit County has a population of 132,566 as of 2020 and was formed in 1883, and is located just south of Whatcom County. The county was named after the Skagit Native American tribe.
Schools
As of 2020, 51 public schools in Skagit County serve about 19,500 students. Schools here have an average math proficiency score of 45% and an average reading proficiency score of 53%. A few top-ranked public schools in Skagit County include Anacortes High School and Fidalgo Elementary School. The student-to-teacher ratio is 17:1, less than the Washington State average of 18:1.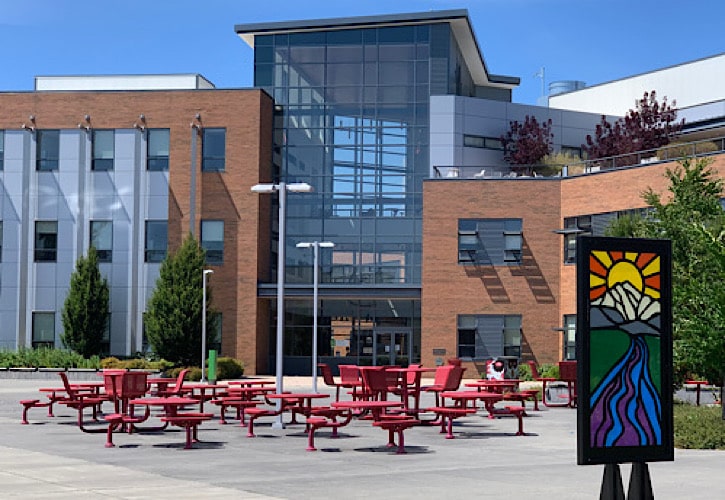 Dining Out
As for food and drink in Skagit County -The Skagit River provides fertile land for wineries looking to produce high-quality wine. In addition, the climate in the area is very similar to some of the most famous European wine regions. Due to these prime conditions, Skagit County is the perfect location for growing grape varietals like Siegerrebe and Agria. Fishing is another vital industry in Skagit County.
My favorite restaurant is the Train Wreck Bar and Grill.

Things to Do
There are also plenty of festivals to attend in Skagit County every year. The most notable festivals held here are the Skagit County Tulip Festival and the Anacortes Boat and Yacht Show. You know Spring has sprung when the Tulip Festival ramps up every year. With over 300 acres of vibrant tulips, daffodils, and irises, you could be there for hours and still have so much to see. There are also beautiful art shows and other fantastic flower exhibits to explore here. If you're more into sea sports and big boats, then the Boat and Yacht Show is the place for you. Not only can you tour some of the newest powerboats in e region, but you can find the latest accessories and appliances for your boat as well. Located in the Cap Sante Marina, more than 300 boats are on display, ranging from a 68 ft Prestige to simple trailer-sized boats.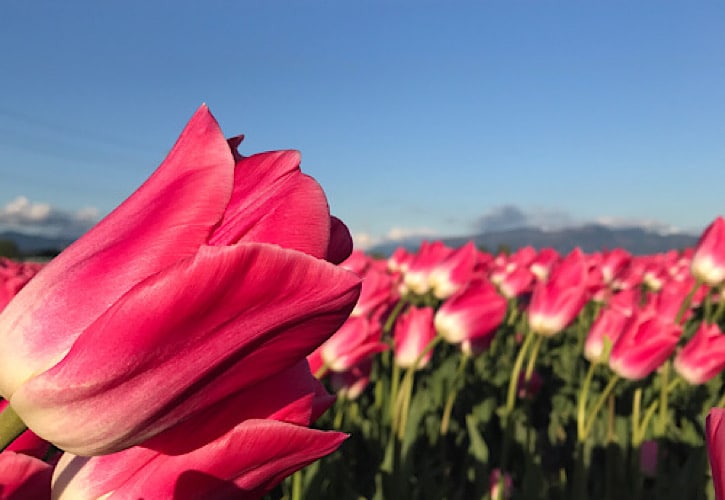 Outdoors
Chuckanut Drive is a beautiful, scenic drive that runs from north of Samish all the way down to Burlington. There are endless hikes and breathtaking views along this road as well as Blanchard State Park, where people flock to enjoy the many mountain bike trails and paragliding. From the numerous lookout points along Chuckanut Drive, you can marvel at the incredible views of the San Juan Islands. If you stop at Taylor Shellfish Farms along the way, you could get an authentic seafood experience while feasting on the highest quality oysters, clams, and crab.
Hiking Trails
Skagit County has a variety of hiking trails catering to all skill levels. Anacortes' Deception Pass is the perfect spot for hiking, relaxing on the beach, and camping. Bow-Edison has the famous Samish Outlook and the Oyster Dome. If you're looking for a more challenging hike, North Cascades National Park offers rugged glacier-filled peaks and stunning waterfalls.
Fortunately, there's plenty of hiking trails in Skagit County. Deception Pass, Bow-Edison, and North Cascades National Park offer breathtaking views. For a moderate challenge, try Sauk Mountain Summit or Boulder River Trail. Check out Three Fingers Lookout, Dock Butte, or Anderson and Watson Lakes for a more challenging hike. Baker Lake Trail is another moderate option with stunning views. And if you're looking for an unforgettable experience, take advantage of Monogram Lake, Lookout Mountain Trail, Old Robe Canyon Trail, North Lake via Independence Lake, or Hidden Lake Lookout.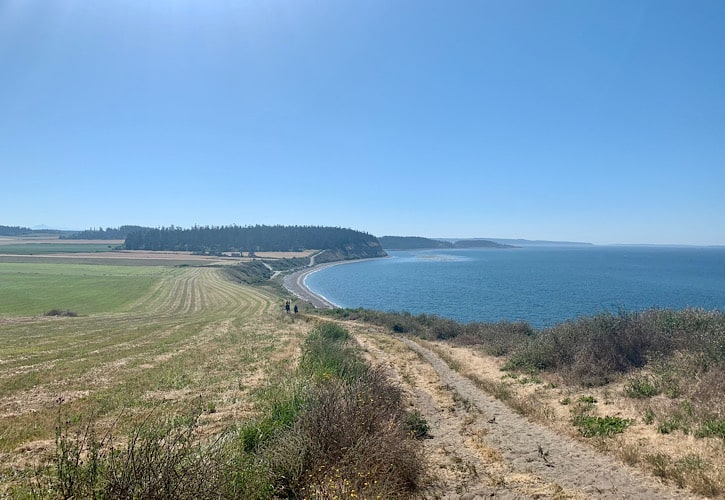 Boating
Skagit County has an exciting array of boating opportunities with 229 miles of marine shoreline and some of the most beautiful islands in the state. There is also the Skagit River, which is perfect for kayaking or tubing. The river is where 1/3 of the Salish Sea salmon live, so there are plenty of prime fishing spots in Skagit County. Anacortes is a boaters paradise and home to one of the best marinas in the Pacific Northwest. The Port of Anacortes marina is located in downtown Anacortes and is also a customs port-of-entry. They also have award-winning kayak tours where you can go on 1.5 to 5-hour tours or multi-day trips through the beloved San Juans.
Islands. You could also tour Deception Pass and see Washington's wildlife and amazing beaches.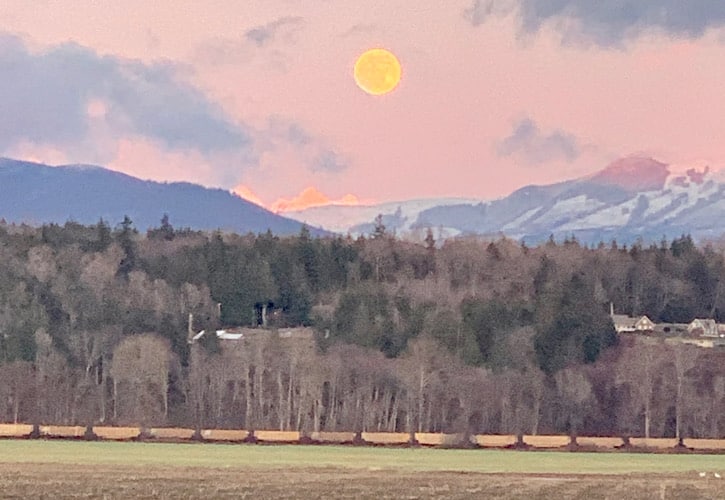 Anacortes
Anacortes is a picturesque town on Fidalgo Island, offering a gateway to the beautiful San Juan Islands via ferry cruises. There are plenty of things to do in Anacortes, including exploring unique cafes, art galleries, and antique shops. However, the natural beauty of Anacortes is the main attraction, providing opportunities for many outdoor activities such as kayaking, boating, hiking, and whale watching. The town is located halfway between Seattle and Vancouver, BC, and is known for its gorgeous waterfront, 50 miles of hiking trails, and a mix of annual festivals. Anacortes has a lively music scene, and visitors can enjoy a range of genres at outside venues during the summer and restaurants and bars throughout the year.
The culinary scene also grows, offering farm-to-table menus, scratch and house-made ingredients, and specialties like BBQ, fusion, and rustic scratch. Anacortes has something to offer all year round, such as the annual Anacortes UNCORKED food and wine experience in February, whale watching and boat tours in the spring, the Saturday Anacortes Farmers Market in the summer, and the annual beer and cider festival in the fall. The winters in the Northwest are primarily mild and great for hiking or taking a self-guided walking tour to explore the town's history. Anacortes also has various attractions, including the Community Forest Lands, which cover nearly 2,800 acres and offer 50 miles of multiple-use trails, and the Anacortes Farmers Market, which provides a gathering place for the community to connect with local farmers and artisans. If you have a passion for marine mechanics, you shouldn't overlook the Skagit Valley College Marine Technology Center located in Anacortes. It presents a one-of-a-kind chance to receive education in this field.
Mount Vernon
Mount Vernon, Washington, is a charming town in Skagit Valley, offering modern amenities and small-town charm. The town's economy thrives on agriculture, forestry, retail, and construction, and the historic downtown area boasts numerous shops, restaurants, and entertainment options. The town offers ample job opportunities and a lower cost of living compared to other regions on Washington's west coast. Visitors can also enjoy various outdoor activities like hiking and biking in Little Mountain Park or exploring Skagit River Park. The Skagit Valley Tulip Festival in April is a popular annual celebration of the region's vast tulip production.
Sedro Woolley
The town of Sedro-Woolley is renowned for its hardworking and optimistic locals, as depicted in Darius Kinsey's photographs at the local museum. Its downtown area is adorned with historic murals, hand-carved cedar statues, and gas lamp replicas. Sedro-Woolley was founded by David Batey in 1878 and named Sedro by changing one letter from the Spanish word for cedar. Situated north of Seattle and south of Bellingham, on Highway 20, along the banks of the Skagit River, Sedro-Woolley is known as the "Gateway to the North Cascades" due to its location on the western edge of the impressive Cascade Mountain Range in northwest Washington State. On December 19, 1898, the neighboring towns of Sedro and Woolley were officially merged into one and incorporated as Sedro-Woolley.
One of the town's notable events is the Loggerodeo, a celebration held annually since the mid-1930s, close to the Fourth of July. It is one of the oldest rural summer celebrations in the state, with many of the events dating back more than a century. The Loggerodeo offers a variety of activities such as a carnival, log drive, old-time logging show, championship rodeo, children's parade, the annual Fourth of July parade, and an invitation-only chainsaw carving competition. The downtown Sedro-Woolley area is also lined with chainsaw-carved log creations from past carving competitions. Additionally, the town is home to Hal's Drive-In, a legendary establishment that has been a staple in the community for decades.
Burlington
Over the past century, Burlington has undergone significant changes and has become a busy town. Its strategic location makes it an attractive destination for real estate investors. The city is a cultural center for the region and hosts various seasonal events and celebrations. The population is diverse and rapidly expanding. One of the city's most notable events is the annual "Berry Dairy Days" festival, which takes place in June and celebrates Burlington's agricultural heritage. The festival was established in 1937 as the Strawberry Festival and began as a fundraiser for the local fire department. It now includes performances, carnival booths, and a variety of fair foods, culminating in a parade on Fairhaven Avenue, the heart of downtown Burlington.
Moving To Skagit Valley? Wondering What the Best Neighborhoods Are?
Are you excited to explore Skagit Valley and discover why it has captured the hearts and souls of countless individuals in the Pacific Northwest? With endless possibilities, there are always new experiences to discover in Skagit Valley.
Additional Nearby Area Information:
View All Skagit Valley Homes For Sale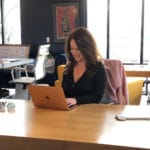 Hi! I'm Jolene Baijot, I'm a Realtor in Washington. Thank you for taking the time to read this blog post. I appreciate your time spent on this site. You can connect with me on Facebook, Instagram, or contact me through this website. I'd love to hear from you!