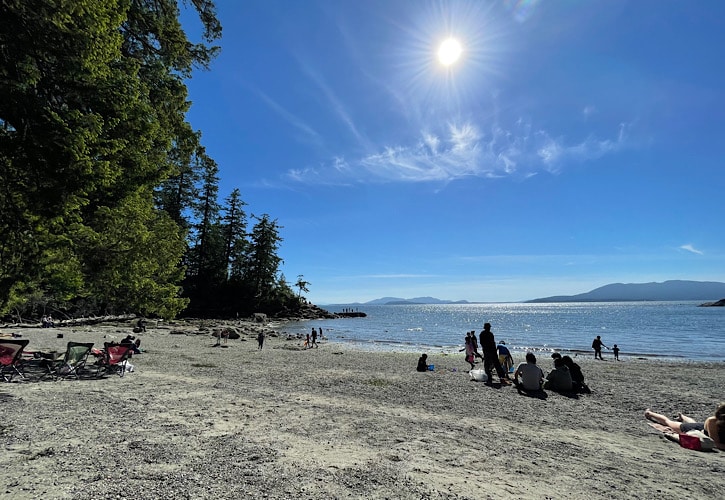 There are tons of amazing parks in and around Bellingham! No matter which way you go, you'll get a glimpse of the area's natural splendor. Below is a sample of the many Bellingham and near by Whatcom County parks you need to visit! The Parks marked with a heart ♥ are my favorite parks so far. Don't miss our blog on the top things to know before moving to Bellingham. Another Bellingham Blog you might be interested in is our blog describing the different neighborhoods in Bellingham.
Bellingham's Best Parks 💗
Bay Horizon is a former air force radar base now home to the Lion's Foundation Camp Horizon and several open fields. It has amenities like:
Basketball Courts

Outdoor Pickleball Court

Picnic Area

Playground

Walking Trails
As a proposed county-wide trail, the Bay to Baker Trail connects the Bay to Baker. As it travels from Bellingham to Mount Baker Ski Area for 74 miles, users will have easy access to existing horse trails, old railroad tracks, and logging roads.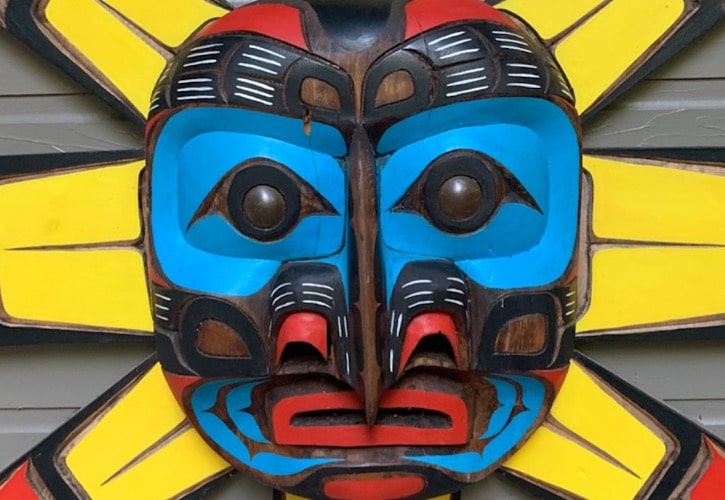 Big Rock Garden Park is a unique city park in an evergreen grove near Lake Whatcom on Alabama Hill. Covering an area of 2.5 acres, this serene park boasts original sculptures set amidst a stunning garden landscape. Visitors are invited to take a leisurely stroll along the winding paths that showcase more than 37 artworks created by local and international artists. The collection includes a striking geometrical sculpture by renowned Mexican artist Sebastian and rare pieces by Canadian artist David Marshall.
Each May, the Friends of Big Rock Garden Park and the Bellingham Parks & Recreation Department organize a delightful Mother's Day Celebration to showcase the garden's magnificence and present a new sculpture show corresponding to the season. Every visit to the park is a unique experience as it undergoes seasonal changes. When spring arrives, rhododendrons and azaleas burst with stunning color, while over 100 varieties of maples signify the onset of fall. The serene winter hues of the conifers complete the annual cycle.
FYI- This is a no pets-allowed park.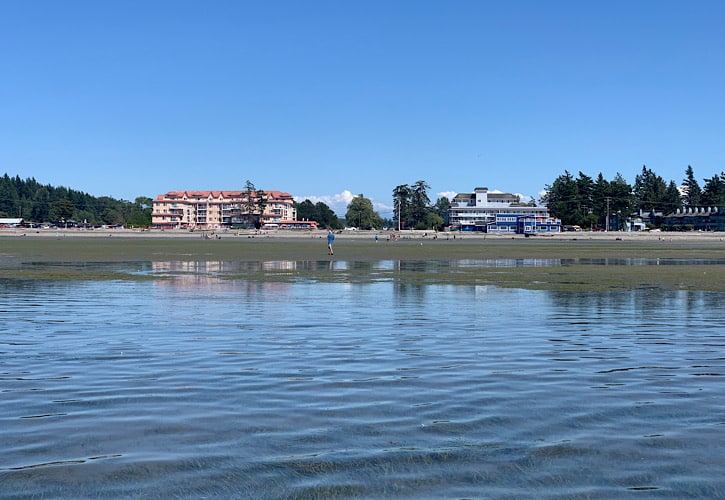 The State Park is the most popular beach in Birch Bay, but the surrounding area offers a variety of other options for getting to the water. The main strip in the middle of Birch Bay is easily accessible from the road. Public parking is available in several locations close to the Birch Bay Visitor Center and other attractions. Additionally, numerous beach access points are located between the cottages on the southern side of the bay, some of which have limited parking space and others that do not.
Remember, a discover pass is required in Washington State Parks run parks, including Birch Bay State Park.
The Birch Bay Wildlife Conservancy Area is a wildlife nature reserve dedicated to the conservation of endangered and threatened species. It is nestled on 45 acres of undeveloped forest and wetlands adjacent to Birch Bay State Park's southern boundary. Moreover, this area serves as a refuge for other types of wildlife in the surrounding area, in addition to protecting heron nests.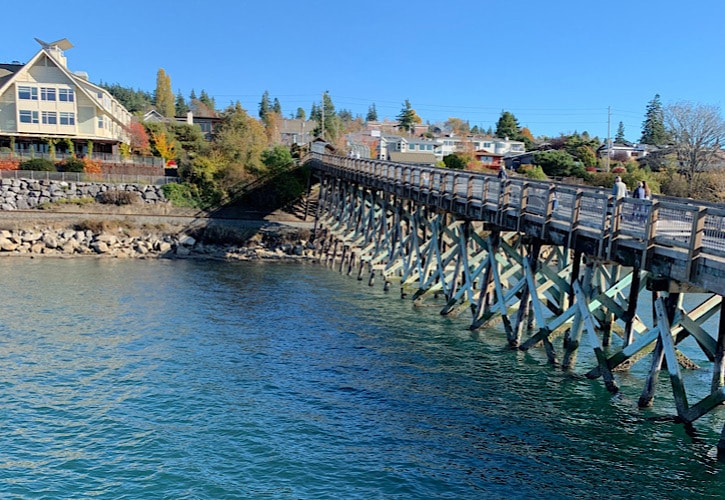 ♥ Boulevard Park
One of the best parks in the Bellingham area is Boulevard Park. This community park is relatively new and just a short walk down the boardwalk from historic Fairhaven, Washington. Boulevard Park was established in 1980, and since that time, it's been a local favorite for summer concerts, picnics, barbecues, hiking trails, and cozy mini beaches along Bellingham Bay.
Kids can enjoy the playground or feed ducks at one of the sandy pocket beaches. Adults can relax on the green and enjoy picture-perfect sunsets. If walking, hiking, and boating are not your thing, there are plenty of cozy restaurants and shopping across the way in historic Fairhaven.
Remnants of the park's industrial past can be seen in the pilings that once were docks, lumber mills, canneries, flour mills, coal gas production, and railroad shops along the rocky shoreline of Bellingham Bay. Fishermen and labor workers once lived in the residential neighborhoods above the waterfront. Today, the area is home to newer residential neighborhoods and older established ones with character and charm. Many extensions have been made to the park's boundaries to prevent the shoreline from being reclaimed by the sea. You'll notice the rocky beaches with an occasional sandy pocket beach. One of the improvements led to a highly popular South Bay Trail, which links historic Fairhaven to downtown Bellingham.
The park is located below South Hill and north of historic Fairhaven along South State Street. Picnic tables and grills offer picnickers the ideal spot for an outdoor get-together. You can stand anywhere in the park and have a stunning panoramic view of Lummi Island, Bellingham Bay, and the old Fairhaven Ferry Dock.
Taylor Dock
The renovation of Taylor Dock has turned a former industrial dock into a 500-foot over-water boardwalk completed in 2006, much to the delight of walking enthusiasts. It's the walker's dream, with the gorgeous sunsets glistening over Bellingham Bay.
After taking a stroll on the boardwalk, relax with a latte by the fireplace at Wood's Coffee shop, located in the middle of the park, which used to be the steam turbine building for E.K. Wood Lumber Mill. Guests can enjoy the scenic view from the Chrysalis Inn overlooking the Taylor Street Dock. Enjoy the ultimate bayside experience by taking in the scenery over a craft beer at Keenan's and other tavern-like bars and stops in Fairhaven.
Canyon Lake Community Forest was established in 1993 due to the discovery of an old-growth forest on the property. The area has since developed into a haven for hikers and bikers looking for a place to get away from the hustle and bustle of urban life.
Chuckanut Mountain is an 11.3-kilometer out-and-back trail near Bellingham, Washington, that is moderately traveled and provides opportunities to see wildlife. Due to the high risk of injury, this trail is only recommended for very experienced adventurers. The trail is popular with hikers and runners during the summer, but it is accessible all year. Dogs are permitted on this trail but must be leashed.
Cordata Park
Cordata Park is one of the newest installations on Whatcom County's list of parks. Located between Stuart and Horton Roads, with over 20 acres of land, this park is set to be a local favorite.
Cordata Park includes an age-separated playground, picnic areas, a large picnic shelter, parkour, bike pump track, basketball and pickleball, restrooms, and plenty of trails accompanied by nice landscaping. This park has well-lit pathways; Cordata for nighttime pedestrians. The park is currently estimated to have cost $6,247,499.89.
The Deming Homestead Eagle Park is an excellent stop along the scenic route of the Nooksack River. This park is one of 14 Whatcom County parks established as a result of the Whatcom Land Trust's involvement. Respectively December and March, a large number of bald eagles congregate here to feed on spawned-out salmon carcasses washed up on the river's sandbars. Early morning and cloudy days provide the best viewing opportunities.
Located on the shores of Lake Whatcom, Euclid Park has a wide variety of hiking trails for visitors. In addition, you will have access to the water, where you can engage in activities like swimming, fishing, and canoeing, among others.
When you enter the park from Chuckanut Drive, there is a large grassy field with space for the kids to run around, roll down the hill, or play a kickball game. There are also basketball, tennis, and pickleball courts for those into sports.
The trail system runs throughout Bellingham, and the forests are there to protect the local wildlife. Along the trails, you may run into Padden Creek and spot some salmon runs and beautiful waterfalls.
Fairhaven Park is an excellent destination to unwind, with over 130 acres to explore. The park is located just off Chuckanut drive in Fairhaven. The park has a spray park, basketball hoops, a playground, tennis courts, and a covered area you can rent through the parks department.
The presence of large trees in Birch Bay contributes to the enhancement of the natural environment. The trailheads for the access trails are located on Anderson Road and Cedar Avenue, respectively.
During this period, you will be required to leave your car at home to enter the park. Cottonwood Beach is just a short walk down Cedar Avenue from the park, which is accessible by car.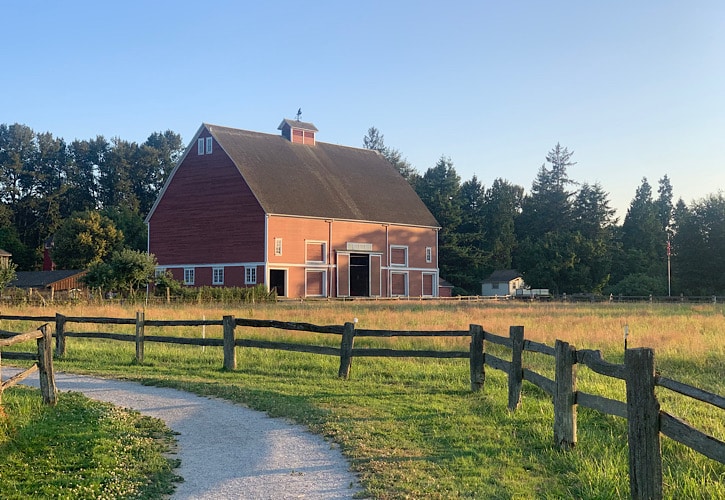 Just south of Ferndale, Hovander Homestead Park is on 333 acres of riverfront farmland. Pioneer farming in the early 20th century has been preserved in remarkable detail on the property. It was first made available to the public in 1971 and has since grown popular for friends and family to meet up. The River Dike Trail allows visitors to explore the park's scenic natural habitats. At the same time, farmyard animals, shaded picnic areas, and playgrounds (including a 50-foot lookout tower) create an ideal environment for outings.
Around the barn and farmyard is a collection of antique farm equipment. Within the large red barn is a milking parlor with some of the tools used by the Hovanders. Hovander Park shows you what life was like as a farmer over 100 years ago. The Hovander House, big red barn, farm animals, gardens, river walk, and playgrounds offer a great place to spend some time.
Hovander River Trail
This 1.9-mile flat trail runs along the Nooksack river from the Hovander house to the Tenant Lake facilities.
Tenant Lake
Tennant Lake Park, which is just 0.4 miles away, can also be reached via a 0.4-mile connector path. Tennant Lake has a 50 ft observatory tower so you can view the surrounding wetlands. Adjacent to the tower is the award-winning Fragrance Garden. Visitors are encouraged to take their time and enjoy over 200 plants in this lovely garden.
Just past the fragrance garden is tenant lake. The lake/pond has a fun boardwalk that winds through lily pads.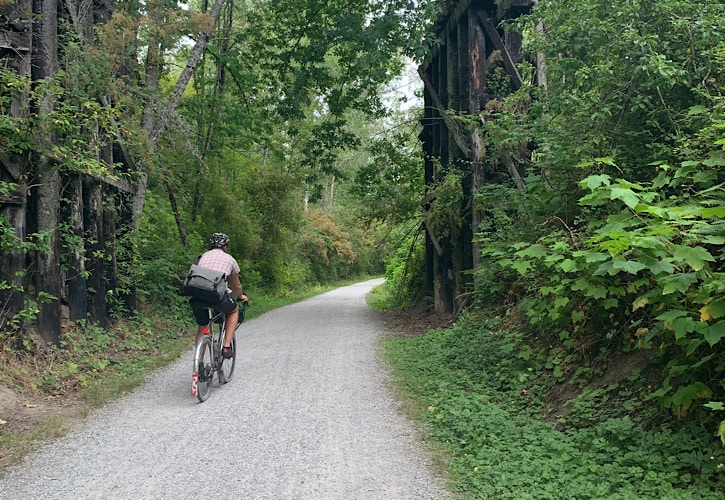 The Interurban Trail is one of the most popular in Bellingham. In the Fairhaven neighborhood of Bellingham, the Interurban Trail leads south to Larrabee State Park and is a well-liked recreational route. The Urb is mainly flat, offers stunning views of Bellingham Bay from above, and is widely regarded as the starting point for the nearby Chuckanut Mountain trails. From the beginning to the end, it's 6.6 miles, which works out to about a 13-mile round trip.
The park was made possible by Don and Judith Jensen's generous donation of a public easement on land that was once part of their family farm. This secluded spot offers a year-round trail that winds through a gorgeous stand of mature Douglas firs. The park stands out from the adjacent field with its mature Douglas fir and vine maple trees. There is a year-round, flat, accessible 0.7-mile loop trail from the parking area that is dog and stroller friendly.
This beautiful memorial park is well worth visiting behind the Van Zandt Community Center. Basketball and handball courts, horseshoe pits, and a playground are available at the park.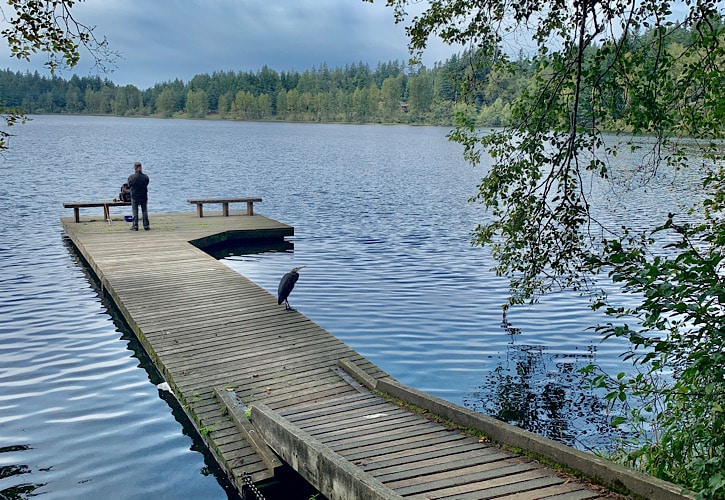 The Lake Padden area is a stunning park that spans over 740 acres and offers visitors numerous recreational activities such as hiking, biking, running, paddling, swimming, horseback riding, and golfing.
One of the amazing highlights of this park is the trail that circles the entire lake, with several offshoots leading to incredible forest experiences.
My favorite place to park to access the trail is next to the dog park. Take advantage of the opportunity to explore this amazing destination!
Views of Lake Whatcom, the surrounding hills, waterfalls, and giant old Douglas Fir trees are among the highlights of this hike. Visitors to Lake Whatcom Park can stroll by the lake or take a nature trail through a lush forest. At the lakeshore is an interpretive kiosk that tells the story of Lake Whatcom and its significance to the local community.
Set on the seaward side of Chuckanut Mountain near Bellingham, Larrabee State Park is known for its gorgeous views of Samish Bay and the San Juan Islands. Larrabee is a State Park, so a discover pass is required.
Established in 1915, Larrabee State Park is Washington state's first state park. Located on Chuckanut Mountain's western side, near Bellingham, you can see the spectacular postcard views of the San Juan Islands and Samish Bay. This one-of-a-kind park offers a boat launch for paddling and fishing, campsites, tide pools for exploring, and picturesque lookout points for meditation or a romantic date.
Hiking Trails
On the east side of Chuckanut Drive, hiking trails lead to the freshwater Fragrance and Lost Lakes. You have trout fishing opportunities and numerous mountain biking trails that wind throughout the forest. Be aware of the trains that run through Larrabee up to 16 times a day near the beach. These trains may be a noisy nuisance for campers, but they are certainly fun for train buffs and kids. Be sure to see the sights and enjoy a day with the family at Larrabee State Park.
Remember, a discover pass is required in Washington State Parks run parks, including Larrabee State Park.
Following are the 2023 Free Days
Jan. 1 — First Day Hikes; New Year's Day

January 16 — Martin Luther King, Jr. Day

March 9 — Billy Frank Junior's Birthday

March 19 — State Parks' 110th Birthday

April 22 — Earth Day

June 10 — National Get Outdoors Day

June 11 — Free Fishing Day

June 19 — Juneteenth

September 23 — National Public Lands Day

October 10 — World Mental Health Day

November 11 — Veterans Day

November 25 — Autumn Day
Aside from providing beach access and a boardwalk, Lighthouse Marine Park also offers camping and picnic areas, among other amenities. The park is best known for the high likelihood of seeing orcas from its shores, but it also offers other amenities such as camping and picnic areas.
Because it's located on the southwest tip of Point Roberts and provides breathtaking views of the surrounding waters, the park is a popular destination among those who want to go whale watching.
This park is a must-see, with spectacular views of the Strait of Georgia and the orca that pass through the area. The park includes forested upland bluffs, beaches, and tidal mudflats. When you visit Lily Point, you can watch seals bask in the sun off the coast and look for starfish and other beach life.
Lookout Mountain Forest Preserve is a 4,500-acre multi-use park that welcomes dogs and families.
It is open to the public and is located just south of Lake Louise Road and Sudden Valley, about 2 miles east of Bellingham. Whatcom County Parks manages this park for non-motorized recreation, which includes hiking and biking trails. Each year, they continue to make incremental improvements to the trail. When completed, the trail system in this area will provide over 98 miles of recreational access.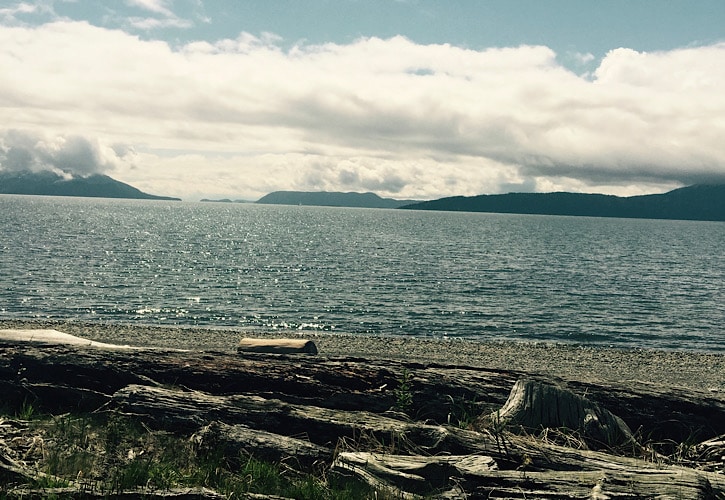 Once the Lummi Island ferry lands, this county park has an observation deck where you can watch the ferry cross below Mount Baker. This overlook, which provides access to the tidelands below, was previously the Lummi Island ferry landing. The Whatcom Chief can now be seen transiting Hale Passage from the park's observation deck.
The Maple Beach tidelands, located in Point Roberts, are a popular spot for swimming, sunbathing, water sports, beachcombing, and shellfish harvesting. At low tide, the tidelands extend for over a half-mile, and there is a small sandy beach at high tide.
The east ends of the following streets have public parking: Maple, Cedar, Birch, Alder, and Roosevelt. There are public restrooms nearby Lily Point Marine Park and Lighthouse Marine Park.
A loop trail winds through forested areas, pasture land, and a series of small waterfalls in this 73-acre park.
The Maple Falls to Glacier section of the Bay to Baker Trail begins at Maple Creek Park.
A notable obelisk — Border Marker Number One — can be found in Monument Park, located at the northwest corner of Point Roberts and serves as the westernmost marker of the border between the United States and Canada.
Monument Park includes forests and a hiking trail leading down a gently graded trail to beachfront wanderings, among other things, along with the grassy area surrounding the obelisk.
Mount Baker is an excellent option if you're searching for a stunning winter outdoor adventure. The Mount Baker Ski Area is suitable for all levels of skiers and has the highest average annual snowfall of any resort in the world, at 641 inches. The area offers eight chair lifts, two rope tows, and a charming lodge.
Mount Baker transforms into a popular hiking destination in late spring and summer. The region has countless trails and paths with breathtaking scenery beyond snow and hills. Hikers can explore fields of wildflowers, numerous little lakes, and impressive bluffs. Additionally, Mount Baker is one of the snowiest places globally, and it is the third-highest mountain in Washington and the fifth-highest in the Cascade Range. On clear days, it is visible from much of Greater Victoria, Nanaimo, and Greater Vancouver in British Columbia, as well as from Seattle.
The Nugent's Corner River Access provides visitors access to the Nooksack River. While you're there, you can go fishing, sunbathe, and observe the wildlife in the area.
The Nooksack Valley School District has leased this natural area as a teaching resource for environmental issues. The area is open to the public.
Whatcom Sports & Recreation maintains nine grass and two lighted, artificial turf fields. It is considered among the best in Washington. It is used for games and tournaments throughout the spring, summer, and fall.
Point Whitehorn Marine Reserve
Its 54 acres of mature woodland, wooded wetlands, and more than two miles of rocky coastal coastline make it an excellent location for beach explorers, birders, and hikers.
Note this is not a dog-friendly marine reserve/park.
You may reach feeder bluffs by taking an easy three-quarter-mile walk through coastal woodland. These bluffs are continually spilling silt into the stony beach below them. A series of interpretive markers may be seen along the walk to the beach, providing background on the forest and the region's history.
The Roeder House is beautifully decorated with quarter-sawn wood trim, pastoral paintings, and antique fixtures and furnishings. Due to the refined historic surroundings and gorgeous grounds of the Roeder Home, it is a popular venue for weddings, parties, and gatherings. The living room includes seating for 50 people and can accommodate 125 people if they are standing at the same time.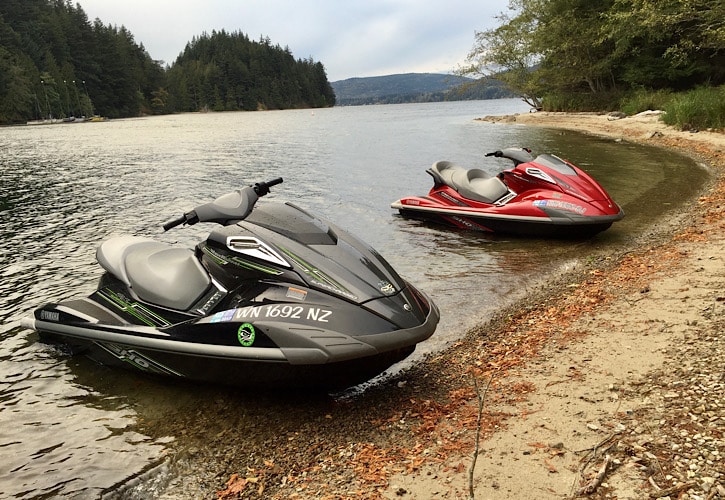 This little park, nestled in the Chuckanut Mountains between the shores of Lake Samish and densely forested hills, is just a few minutes drive from downtown Bellingham and offers a variety of recreational opportunities. Samuel Samish Park comprises 26 acres of quiet lakefront and woodland landscape in the heart of Seattle. Because it is situated near the northwest corner of Lake Samish, it is a favorite swimming location for locals and visitors alike. Kayaks, canoes, paddle boards, pedal boats, and paddle boards and pedal boats are available for rent on the lake. There is also a small collection of walkways that go along the edge of the river and up the hill above it that they may use if they want. I enjoy using lake Padden to ride my Jet Ski; the boat launch is a few minutes from the park.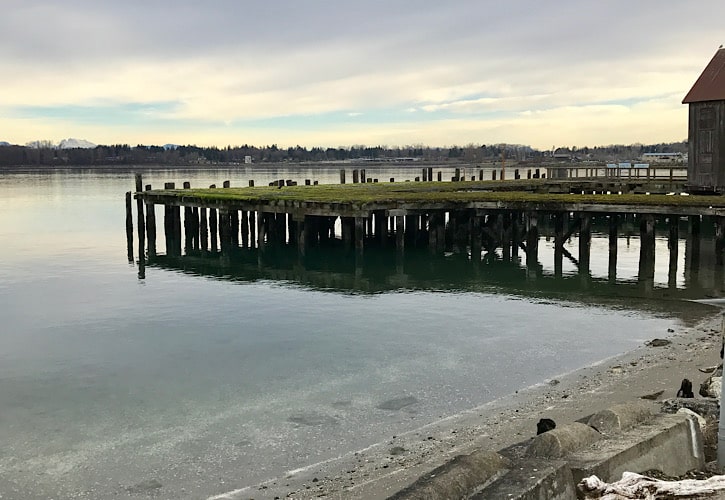 In the Pacific Northwest, Semiahmoo Park is a refuge of natural beauty that has views of Semiahmoo Bay and the Straight of Georgia on one side, protected Drayton Harbor on the other, and distant views of Mount Baker and the Twin Sisters mountains on the horizon.
For birdwatchers, Semiahmoo Spit is a popular site, especially during the winter months, as well as during the fall and spring migrations.
Silver Lake Park, approximately 40 minutes east of Bellingham and offers a diverse variety of recreational opportunities, is a great place to spend the day. Camping in three distinct campsites, boating, fishing, and boat rentals are available at this foothills park, a popular family destination for many. During the months of April and October, campgrounds are available. Reservations for stays at the Lakeside Lodge and Cabins may be made any time of the year. In Silver Lake Park, however, there needs to be mobile service and Wi-Fi connectivity available.
You will see trails at South Fork Park, asphalt parking areas for hikers and bicyclists, an equestrian gravel parking lot, a vault restroom, and a vault bathroom.
After a short walk through the woods, visitors will arrive at an open, bustling agricultural field with panoramic views of the South Fork Valley, where they may sit back and take in the environment. Travel to the riverbank, where Whatcom County and the Lummi Nation have been working to enhance animal habitat by creating in-stream structures and replacing natural vegetation along the river's edge since 2009. Take some time to look into things. Steelhead, bull trout and salmon are all known to inhabit the river's waters.
Long-term plans for South Fork Park include the development of a path connecting it to the Overby Farm and the Nesset Farm and farmhouse, all of which are located nearby.
In what may be considered a hidden treasure, Squires Lake Park is located along Highway 99, on the boundary of Whatcom and Skagit Counties, only 2 miles north of Alger. It is a hidden treasure near the border between Whatcom and Skagit Counties, about 2 miles north of Alger, and is a great place to visit. The fact that it is not well known gives it the reputation of being a "hidden gem." Within the Chuckanut Mountain ecosystem, 82 acres of land are protected, making it a fantastic spot to spend time outdoors. The region is highly valued due to its proximity to the Lookout Mountain Forest Preserve and the relevance of its ecology to the local community.
In the Stimpson Family Nature Reserve, 350 acres of undisturbed old-growth forest and a thriving wetland ecosystem combine to provide a tranquil setting where hikers may get up and personal with the incredible majesty of the natural world. Walking through 350 acres of unspoiled old-growth forest and dynamic wetland habitat will give you an unforgettable experience. Both adults and children can explore the natural surroundings of the park's nature reserve. There are informative signs throughout the area.
You can see the Rosario Strait and the islands beyond this county park on Lummi Island. The Willows Inn is only a few steps from the beach, and parking is available across the street. The Willows Inn is a cozy, family-run inn in a quiet residential neighborhood.
The major draw of this 70-acre complex is its equestrian facilities. For a single day, riders may ride their horses. Volunteers arrange dressage and jumping events, for example. This place has an open field, a sand riding ring, and a picnic area. Friends of Sunset Farm manages and maintains Sunset Farm Park, a non-profit organization.
Bellingham's Geneva neighborhood has Ted Edwards Park, a peaceful place to walk or run.
Teddy Bear Cove is a nine-acre piece of land on Chuckanut Bay with 1,430 feet of shore. It is full of animals. Learn about marine life on two little beaches, and look out over Chuckanut Bay and the San Juan Islands from the Chuckanut Mountains. This is a great year-round walk for people who want to be alone during the winter.
Located just steps from downtown Bellingham the quaint park has a beach, playground, and bike pump track. Don't miss the park's namesake, the art installation known as "Waypoint" (a.k.a. the "Acid Ball"). This industrial ball, initially used in wood pulp processing, has been turned into an art piece that lights up at night. Take advantage of the new brewery open in the warmer months, trackside brewery, next to the pump track.
The North Fork Nooksack River has a launching place on Mosquito Lake Road, just east of the Welcome Bridge. It is accessible through Mosquito Lake Road.
Whatcom County is well-known for providing a diverse range of options to both residents and visitors. Many visitors to Bellingham are looking for adrenaline-pumping activities. The city also has an abundance of quiet nature trails. Most lead to waterfalls, through old-growth forests, and along tranquil lakes and bays. There are plenty of options available for those of you who want to get outside.
.
Hi! I'm Jolene Baijot, I'm a Real Estate Agent in Bellingham. Thank you for taking the time to read this blog post. I appreciate your time spent on this site. You can connect with me on Facebook, Instagram or contact me through this website. I'd love to hear from you.