Living in Birch Bay, WA
Find out why people are moving to Birch Bay in 2023
For anyone moving to Birch Bay WA, or considering the move, you'll want to read this post first!
Are you looking to escape the hustle and bustle of the city for a peaceful retreat? Look at Birch Bay, located north of Bellingham and just South of Blaine, WA. This beautiful beach town offers breathtaking views of the North Cascades Mountains, the San Juans, and the Canadian Gulf Islands. If you're a nature lover, check out the Terrell Marsh interpretive trail for a unique glimpse of a saltwater and freshwater estuary filled with wildlife, including the majestic great blue heron. The mudflat provides a rich source of clams and other shellfish during low tide. And for those who love swimming, Birch Bay boasts warm waters perfect for a refreshing dip. Activities like crabbing, windsurfing, sailing, and paddling are also possible.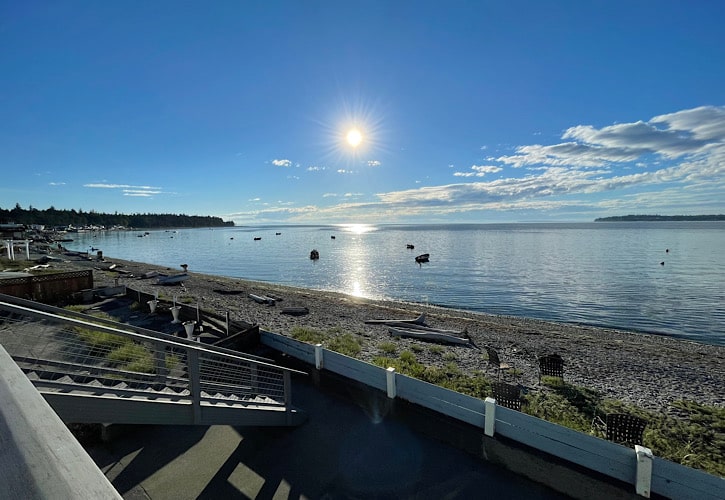 Located in Whatcom County, Washington, Birch Bay is a charming community nestled by the beach. With easy access to Seattle and Vancouver and outdoor activities like swimming, fishing, kayaking, and beachcombing, there's something for everyone. Hiking, biking, and kayaking. And when it's time to wind down, you can find shopping, restaurants, and entertainment venues nearby. The friendly and welcoming locals make it easy to feel at home, and the higher median household income compared to other towns in Whatcom County makes Birch Bay an enticing option.
Birch Bay Facts –
– Birch Bay covers 16 square miles and is only 15 minutes from the Canadian border.
– Birch Bay has a population of 9,917 people, and the median annual income for households is $63,413.
– Education, 27.2% of the population has a bachelor's degree or higher, and 94.5% have completed high school.
– Out of all the residential properties in Birch Bay, 73% are currently occupied.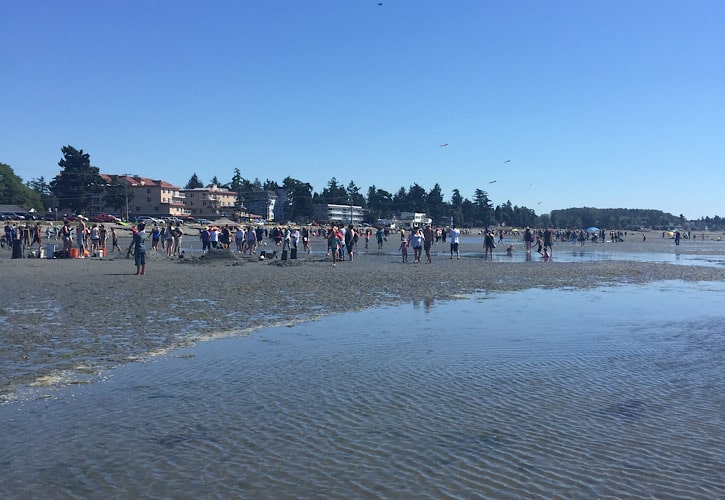 Birch Bay State Park
This 664-acre park boasts 8,255 feet of saltwater shoreline on Birch Bay and 14,923 feet of freshwater shoreline on Terrell Creek.
When parking in the State park section, please ensure that you have your Discover Pass. The park has an automated pay station to buy a one-day or yearly Discover Pass and a boat launch permit. There are also a variety of activities to choose from, including boating, camping, hiking, and exploring the park's wildlife.
For picnics and day-use, the park offers six sheltered and 120 unsheltered picnic tables, a kitchen shelter with electricity and water available on a first-come, first-served basis, and a reservable picnic without electricity that can accommodate up to 150 guests. If you're looking for a sweet treat, Sugar Shack Ice Cream is a mobile truck that serves a variety of ice cream snacks and is available in the day-use area of Birch Bay.
If you stay overnight, you can enjoy the campgrounds and basketball court. For a side trip, you can visit the U.S.-Canada border town of Blaine and the fascinating Peace Arch State Park, located only 9 miles north of Birch Bay. The busier city of Bellingham is also just 20 miles south.
Birch Bay State Park provides interpretive opportunities through its active summer interpretive program, the 0.5-mile Terrell Marsh Interpretive Trail, and four interpretive signs throughout the park. If you're interested in clamming or Dungeness crab harvesting, you'll be pleased to know that Birch Bay is abundant in both. However, a recreational license is required for fishing and shellfish harvesting at Washington State Parks, and regulations and fishing season information can be found at the Washington Department of Fish and Wildlife.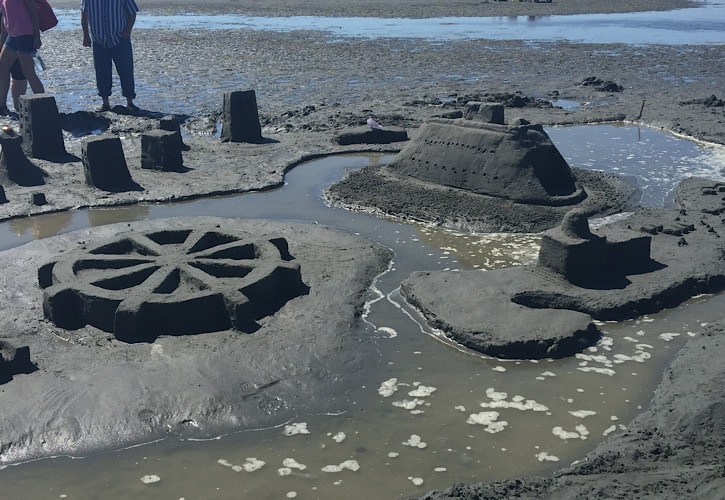 Birch Bay Pros and Cons
Pros
The beach and all the outdoor activities it comes with. You can find bay-view homes and condos in the area, and many restaurants are within walking distance. It's convenient for full-time residents who work in Bellingham and also an great location for a second home or vacation spot. There are lots of opportunities for investing in real estate here, and the best part is that there's no state income tax. Also, the airport is only a 30-minute drive away.
Cons
There are some potential negatives and trade-offs to consider, such as the absence of an elementary, middle, and high school in the area. Additionally, there may be some unkept areas to be aware of.
Places To Eat Around Birch Bay
CJ's Beach House
Welcome to CJ's Beach House! My top pick for a sit-down restaurant in Birch Bay. This restaurant is located in the heart of Birch Bay and serves breakfast, lunch, and dinner. Our menu features a variety of delicious seafood dishes, as well as tasty burgers and other options. Enjoy dining on their outdoor deck with a great view of the bay (please note that a road runs in between, making it an ideal spot for people-watching). As centrally located, they get pretty busy, particularly on weekends. My personal favorite is the clam dish.
Skai Sushi
Don't miss Skai Sushi, a take-out-only restaurant inside the Beachwood grocery store near Birch Bay State Park's entrance. They have an extensive menu of popular sushi rolls, Nigiri, gyoza, and other yummy options. It's an excellent option to grab a quick meal and enjoy it at the beach. It may seem strange to get sushi from a convenience store, but this is my favorite sushi spot north of Bellingham. I highly recommend ordering online and being prepared to wait, as they are always busy. They are usually open from Tuesday to Saturday.
Bay Breeze Restaurant and Bar
The Bay Breeze Restaurant & Bar is right by the water, at the heart of Birch Bay. This place has a fantastic panoramic view of the bay and is decorated with black-and-white historical photos of Birch Bay. They have a varied menu with options for seafood and burgers. Make sure you pay a visit to the rooftop dining area.
The clam chowder is their specialty; they claim it's the best in the area. Even though I haven't tried it yet, I plan to when the weather gets colder.
The Beach at Birch Bay
Located in Birch Bay, The Beach is a popular local destination. Enjoy a breathtaking sunset while sipping on a refreshing beverage on their patio and listening to fantastic live music from local artists. The menu offers classic dishes such as burgers, seafood, salads and more. Are you looking for an exciting evening? Visit their event page to enjoy live music, karaoke, trivia, cornhole tournaments, date and paint, and many more activities! As I have yet to try their food, I cannot provide any recommendations from the menu.
Shores Restaurant
Shores Restaurant is a bar-style eatery situated on the main strip. It talks about having a welcoming ambiance and is conveniently located amidst several resort condos, attracting locals and tourists. The restaurant offers breakfast, lunch, and dinner with seafood, burgers, wraps, and other American-style dishes. The outdoor dining area offers a beautiful bay view, but I still need to check it out.
Pierside
For a finder dining experience, Semiahmoo Resort and Pierside is the nide destination. Pierside boasts an upscale beachy decor and breathtaking views of Semiahmoo Bay and Blaine/White Rock. They offer breakfast, lunch, and dinner with a diverse menu that focuses on fresh seafood sourced locally.
Packer's
This restaurant has a limited menu, but it has a unique feel about it, almost like dining on a boat. Located at the Semiahmoo resort. The stunning water views add to the pleasant atmosphere. It shares a kitchen with the Pierside restaurant, but it was a minimal menu the last time I went there. You'll find a full bar and multiple TVs showing sports. The deck opens up on sunny days for outdoor dining.
Bob's Burger and Brew
Bob's is an American restaurant in Birch Bay Square, only a 10-minute drive from Birch Bay and nearby the I-5. They offer generous portions of delicious food and have many TVs showing sports games. The atmosphere is family-friendly and relaxed. Their extensive menu includes various salads, burgers, and sandwiches.
Find Your Next Home in Birch Bay
Regarding housing, Birch Bay single-family and condo prices typically are 5 to 20% below prices in Bellingham.
Local Real Estate Agents
If you or someone you know is searching for homes for sale in Birch Bay, please don't hesitate to get in touch with us. We're happy to help and can answer any questions you might have. Our website also features local area guides that offer valuable advice and information about topics such as relocating to Washington, Bellingham, Lynden, and Blaine. You'll even find guides on the best neighborhoods in Bellingham.
Additional Area Guides: