Marysville is truly an excellent option for anyone looking for multifaceted industrial or retail options. View Apartment Buildings, Commercial Land, Hotels, Industrial Buildings, Office Buildings, Retail Buildings-
Marysville Search Options
Located 35 miles north of Seattle, Marysville WA is the perfect location to invest in real estate. The city is the fastest-growing city in Washington state, growing at an annual rate of 2.5%. Established in 1872 as a trading post, Marysville has become a home for early-day pioneer families to modern-day families who get to enjoy a fun, fast-growing community.
Commercial Real Estate for Sale in Marysville, WA
Marysville is the perfect blend of country and city for those who love to go on fun ventures and have quiet nights indoors. The summertime brings a plethora of festivals, parties, and get-togethers for the entire community. The city is perfect for families and those who love nature and the outdoors.
Snohomish County
Located in Snohomish County with an estimated population of 70,298, Marysville is known for its strawberry fields and carries the nickname "Strawberry City" from the 1920s. The city sits between two major, gorgeous creeks, Quilceda Creek and Allen Creek, and provides access to over 70 minor streams. Living in the city grants gorgeous skyline views of Mount Pilchuck, the Cascade Mountains, and the Olympic Mountains to the West. Lovers of nature will love the greenery and breathtaking scenic views Marysville has to offer. Since Marysville is the fastest-growing city in Washington, it is no surprise that its commercial real estate is taking off.
Fast-Growing City
Established in 1872 by James P. Comeford, an Irish immigrant, Marysville has grown immensely over the years. Back in the late 1800s, the city thrived on the lumber industry and attracted settlers from all over who came to Marysville by steamboat to find work. Once railroad tracks were set, more settlers ventured to the city. The city became known for its strawberry fields in the 1920s and began having a yearly Strawberry Festival every summer that residents always look forward to.
Nature
Residents of Marysville love being able to experience city life and rural life in one. With plenty of shopping opportunities, restaurants, and businesses to explore, residents can enjoy the benefits of a city while also enjoying nature. Being able to access beautiful parks, waterfronts, and nature routes allows residents to take a break from the busyness of city life.
People love that the city is close to nature, so they can go on hiking, biking, boating, and fishing adventures. With a variety of bountiful parks to visit, Marysville is the perfect location for families to explore and experience together.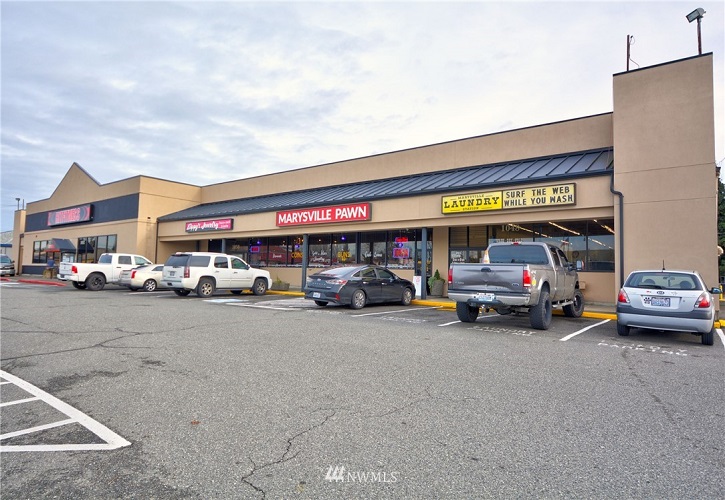 Shopping
There is a wide variety of shops to choose from, including souvenir stores, vintage shops, shopping strips, and more! Adults can enjoy the local casinos, bars, and nightclubs to socialize and experience the nightlife.
The downtown of the city offers a variety of shops, restaurants, and older homes. New neighborhoods are popping up to meet the growing demand for housing for the increasing population. Transportation is easy to access for residents because the city is located along the I-5 corridor and Highways 9. Residents also have access to transit routes along major roads to get to wherever they need to go.
Real Estate Success
Since the city is nearby Seattle (about 32 miles) it paves the way for residents to search for job opportunities and urbanization. With time, Marysville's population is expected to increase due to its proximity to Seattle, which is wonderful news for people looking to invest in Marysville commercial real estate.
Since the city is expected to grow, it's the perfect location for businesses to establish roots and grow with the city. Business owners can expect an increase in sales and traffic as more and more people move to Marysville. Since the city is growing at a rate of 2.5% annually, business owners can expect marginal increases year-after-year.
In Marysville, house ownership is 68.7% which is more than the U.S. national average. The cost of houses is cheaper than Seattle properties; however, the prices are increasing due to the influx of people wanting to move there.
Zip Codes
98205, 98223, 98270, 98271, 98292
External Links
Recently Sold Marysville Commercial Real Estate